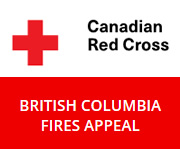 Please consider donating to the RED CROSS
B.C. Fires Appeal
Massive wildfires have triggered a province-wide state of emergency in British Columbia. Fast moving flames have forced thousands of people from their homes. At least 138 wildfires were sparked in a single day on July 7. Urgent support is needed for the more than 46,000 people evacuated from their communities as of July 19.

The Red Cross is supporting the province of British Columbia and local authorities in providing assistance to those affected by the wildfires.
Welcome to UrbanSource Creative Catering
We're a full-service catering company, serving Southern Ontario and the Metro area since 1984. UrbanSource celebrated 30 years of catering in 2015, and we continue our tradition of great service -from Cocktail Parties, BBQ's and Brunches, to Buffets and Dinners! >>>more